Finally the Solution to Your Stress
**Must be an existing patient to access the 3 x 3 Stress Protocol
Life is anything but easy.
You may think that you're coping but your body is showing you TONS of signs that you're not coping as well as you think that you are.
Quite frankly, you are super human with all of the balls you juggle on a daily basis.
Just remember, that if you don't take care of YOU then you're no help to anyone!
NOW is YOUR time!
So let's have an honest and frank conversation shall we…
If you're being honest:
You feel like you're running on fumes, exhausted all day, sleep is atrocious and you do not want to get addicted to sleeping pills… but you NEED sleep!

You are doing all of the right things – minimizing bread, no milk at all, but you can't get a handle on the caffeine and sugar addiction. Those foods are the only things keeping you going

You've read tons of books on stress or adrenal health and tried to follow their recommendations (your cupboard full of supplements proves that), but still, nothing feels any different.

You're so focused on getting back "to normal" that you're worried you'll never figure it out. Maybe waiting it out is the answer. Spoiler: it's not.

You're not sure another course or program can help you, but you're ready for REAL answers. You're tired of wasting time, money, and energy on methods that give you ZERO results.
Truth bomb: Your efforts thus far haven't helped you balance your stress hormones one bit.
Maybe they've given you some great ideas or things you know you "should" do, but you still somehow backslide into old habits, or overwhelm.
I know because I see my patients struggle with this over and over again, which is why I'm so excited to bring all of my expert solutions to YOU for a fraction of the cost.
My mission is to help all women regain control over their stress and love their bodies again.
ENROLL IN THE 3 X 3 STRESS RELIEF PROTOCOL NOW!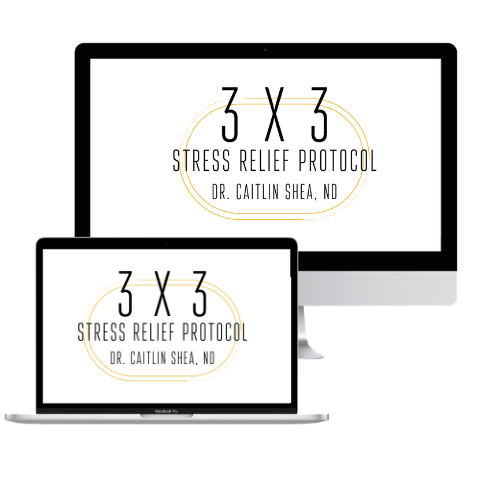 Stress Protocol
Initial visit
Cortisol test
Course materials release
15 minute check in after 7 days
45 minute check in at end of 2 weeks
Hello, I'm Dr. Caitlin Shea, ND, and I help women, just like YOU, achieve complete stress balance with years of experience and targeted knowledge of treating mental and emotional stress using ONLY natural medicine and lifestyle changes.
I have spent most of my career treating and supporting people with stress and anxiety disorders.
After treating hundreds of women, I have now realized many of the underlying issues that will cause the stress to become dysfunctional and to that end, I wanted to find a way to get this information to you RIGHT NOW.
A way where you could watch, listen, read and digest things at your own pace, but with a very clear path of where you need to focus your precious energy in order to get the best results.
Because you know what happens when you finally know how to treat your stress naturally?
You wake up every morning with actual ENERGY! Now you know that your low functioning stress wasn't just in your head and you have the know how to take control back!

You can fit into those clothes stuffed at the back of your closet and LOVE the reflection you see in the mirror. That woman looks damn good!! Glowing Even!

You have more TIME to do the things you love and be 100% present with the people in your life, now that your stress hormones are back into balance
ENROLL IN THE 3 X 3 STRESS RELIEF PROTOCOL NOW!
IMAGINE BEING ABLE TO WAKE UP WITH ABUNDANT & SUSTAINABLE ENERGY IN AS LITTLE AS 2 WEEKS. FOR REAL.
NOW YOU CAN WITH THE 3 x 3 STRESS RELIEF PROTOCOL!
A medically supported and comprehensive protocol that will change your mental-emotional health forever
All of this information would take most patients MONTHS to get the results that they want which is why I created this protocol to get you feeling better in as little as three weeks!
Not only will you get 1:1 support with me, but I've also included my 3 x 3 Stress Protocol at-home program to fast track your way to a stress-free, anxiety-free life.
ENROLL IN THE 3 X 3 STRESS RELIEF PROTOCOL NOW!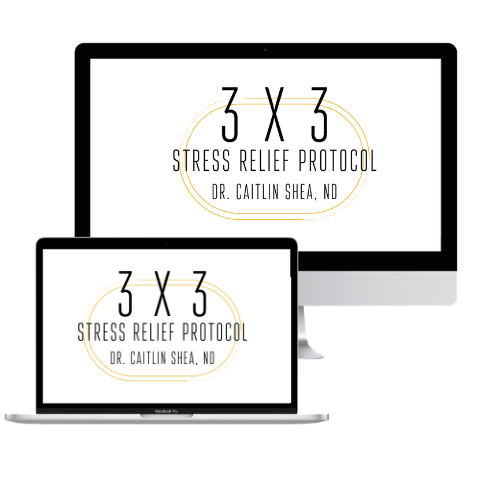 WILL THIS WORK FOR YOU, YOU ASK?
How long does it take? As soon as we have your initial 1:1 assessment, I will personally help you get on track, with the individualized testing and support you need. Then immediately after, I will grant you access to the 3 x 3 Stress Protocol at-home program with bonus handouts, trackers and exercises. As the days go on, you will receive my personalized informative videos to help you stack each days new habits over the next 2 weeks. Then we will have another 1:1 consult to help these new habits STICK for a lifetime.
How is it delivered? The consultations can be done in-office or virtually. All of the videos, exercises and worksheets are delivered via email, so you can access this information from any device, anytime and anywhere you want to.
WHAT'S INCLUDED IN THE PROTOCOL
IMMEDIATELY: Our initial 60min 1:1 Consultation + Hormone Testing with a minimum of 1 or more follow up consultations, based on your progress
Module 1: Stress Herbs and Supplements
As soon as you enrol you get immediate access to all of the handouts and exercises. As the days go on, you will get access to my personalized informative videos to help you stack each days new habits over the next 2 weeks.
Module 2: Nutrition for Stress and Anxiety
You will receive a mini cookbook that I have personally created for this program to target stress and anxiety. The recipes and food items are clean, natural, EASY food choices that stick within an ideal calorie range so you will feel and look your best.
Module 3: The 3 Minute Lifestyle Change
You will choose a 3 Minute lifestyle change from 2 options to be implemented over the 2 weeks of the course. It will be quick and easy with amazing results. It may seem small but when everything is combined and stuck to consistently, you can get serious changes in your cortisol levels. Don't underestimate the power of sticking to something SIMPLE consistently. I will be your accountability cheering you on and checking in the WHOLE 2 weeks.
ENROLL IN THE 3 X 3 STRESS RELIEF PROTOCOL NOW!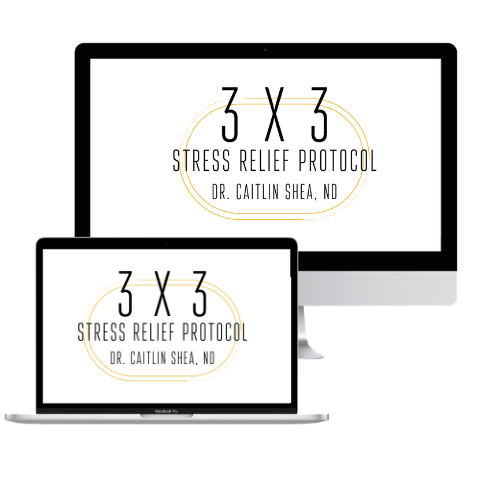 AND I'M NOT DONE YET! HERE ARE YOUR BONUSES
A Complete Stress Habit Tracker PDF – This PDF tracker will serve as your course checklist. It will keep your new habits top of mind and give you that instant gratification as you check off the boxes every day.
3 Minute Gratitude Practice Guidebook – This part is non-negotiable for all of my members. Gratitude practice and quieting the mind, even for 3 min per day, is an absolute game-changer!
Herbs and Supplements Guide for Anxiety – It's my job to get you results FAST! While the habits you're going to learn are going to have a tremendous impact, these extra boosters will take you even further!
Stress Relief Mini Cookbook – 7 Days of repeatable stress-friendly recipes to keep you on track and keep your stress stable. The program will get you there, but these recipes keep you stable for life!
ENROLL IN THE 3 X 3 STRESS RELIEF PROTOCOL NOW!
Here's what happens after you clickety-click that magical button!
You'll be taken to a booking page where you can book in your initial 1:1 consultation with me so we can get started ASAP!